SteelSeries 9H Headset

Posted on 12-09-2013 - 0 Comments
Lan OC have reviewed the SteelSeries 9H Headset - here's an excerpt from their review:



Quote:

"When SteelSeries first introduced the 9H I was extremely excited that they would finally be making a headset that would hopefully fit me properly. I loved our 7H but its size didn't fit me well causing comfort issues, no matter how good a headset sounds or performs you aren't going to keep using it if it hurts you. Because of that my first concern with the 9H was to make sure it would fit me properly. Happily I can confirm that it fit me great and was actually extremely comfortable. The black and orange design is both eye catching as well as clean looking, so in the end it came down to audio performance. I was really hoping the audio performance would be a little better than it was, but it wasn't bad enough to be concerned as well. My main issues with the 9H ended up being small details like the microphone boom being too short and a few issues with the cable connection going into the headset..."

Read more at Lan OC
---
Intel Xeon E3-1230Lv3 1.8GHz Quad Core "Haswell" 25W CPU

Posted on 12-07-2013 - 0 Comments
eTeknix have reviewed the Intel Xeon E3-1230Lv3 1.8GHz Quad Core "Haswell" 25W CPU:



Quote:

"Intel's Xeon E3-1230Lv3 CPU has been a hotly anticipated processor for a wide variety of target audiences – home users, office users, small business users and enterprise users. Today we've got an opportunity to put Intel's enterprise Xeon E3-1230Lv3 CPU to the test in a professional home user or "prosumer" type of environment, by pairing it up with SuperMicro's server-grade C7Z87-OCE motherboard. The Intel Xeon E3-1230Lv3 is an important CPU because it offers four cores, eight threads, a 1.8GHz base frequency, a 2.8GHz Turbo frequency and 8MB of cache all for a tiny TDP of just 25W."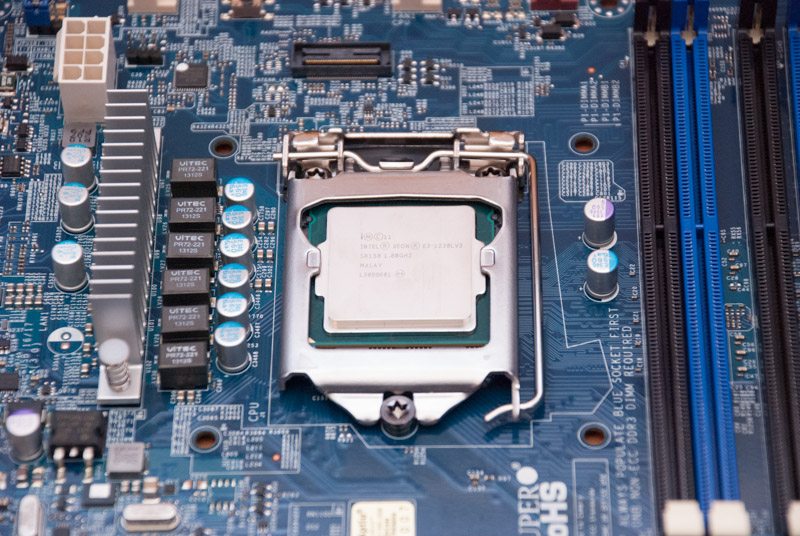 Read more here.
---
Fractal Design Tesla R2 650W Power Supply

Posted on 12-03-2013 - 0 Comments
Legit Reviews have taken a look at the Fractal Design Tesla R2 650W Power Supply - here's a snippet from their review:



Quote:

"Fractal Design is a Swedish company which started off as a computer case designer and manufacturer. Like most such companies, after they have established a foothold in their original segment of the market, they began diversifying into other segments as well. Naturally, Fractal Design began their diversification towards power supply units, releasing several products, which are today divided into three series based on their 80Plus certification; Integra (Bronze), Tesla (Gold) and Newton (Platinum).

The power supply which we will be reviewing today is the Tesla R2 650W. As the name suggests, this is the second revision of the Tesla series. It is the second weakest power supply of the series, which includes 500W, 800W and 1000W models, as well as a white version of the 650W model. Fractal Design promises great performance but the $119.99 retail price of the Tesla R2 650W is aggressive, even for an 80Plus Gold certified unit. How well does it compare against the competition? Read on to find out."

Read the full review at Legit Reviews
---
Lenovo IdeaCentre Flex 20

Posted on 12-02-2013 - 0 Comments
Tech Review Source have taken a look at the Lenovo IdeaCentre Flex 20 PC / Tablet hybrid:



Quote:

"The IdeaCentre Flex 20 is another innovative desktop PC/tablet hybrid from Lenovo. It looks just like a standard all-in-one desktop PC, but fold up the stand and unplug the power cord, and you've got a 20-inch tablet.

The design of the IdeaCentre Flex 20 is very similar to the Lenovo IdeaCentre Horizon we reviewed this past summer. It's mostly aimed at the home entertainment market thanks to its pre-loaded games and related software. Lenovo bills it as a "portable all-in-one" because it's a traditional all-in-one desktop PC make into a portable, tablet-like device."

Read their full review here.
---
BitFenix Prodigy M mATX Case

Posted on 11-29-2013 - 0 Comments
Benchmark Reviews have taken a look at the BitFenix Prodigy M mATX Case:



Quote:

"In 2012, BitFenix unleashed their Prodigy upon the world. An unusual case at the time, I believe it single-handedly jumpstarted the high-performance ITX category. In my opinion it was part of the reason we now see motherboards such as Asus' P8Z77-I / Z87I Deluxe and Maximus VI Impact. Previously constrained by small cases and under-powered chipsets, the Prodigy allowed enough room for watercooling and an unprecedented amount of airflow for an ITX enclosure. However, again in my opinion, it was just too big. ITX is about cramming as much performance into as little space as possible, and the Prodigy was large enough to fit a micro ATX motherboard….

After seeing numerous modders do just that (and the customer feedback that was clamoring for such a case), BitFenix has responded with the Prodigy M. Using the frame of the original Prodigy, they reworked the internals to accommodate a micro ATX motherboard and all of the enthusiast configurations that go along with it. Even with its proven performance in ITX trim, can the Prodigy chassis keep up with mATX components? BitFenix sent their Midnight Black Prodigy M, model number BFC-PRM-300-KKXSK-RP to Benchmark Reviews so we could have a look."

Read more about it at Benchmark Reviews
---
Gigabyte AMD Radeon R9 270X WF OC (GV-R927XOC-2GD) Video Card

Posted on 11-28-2013 - 0 Comments
Mad Shrimps have reviewed the Gigabyte AMD Radeon R9 270X WF OC (GV-R927XOC-2GD) Video Card:



Quote:

"The Radeon R9 270X Windforce OC video card from Gigabyte is the second one we are reviewing with the same GPU and the manufacturer has decided to include only a 50MHz overclock over the stock model, while we have seen with the HIS R9 270X IceQ 2 Turbo Boost Clock a larger increase of about 90MHz; the memory clock is the same for all variants but overall we will see a small advantage of the HIS board in the performed tests.

What seems very interesting is the fact that we have obtained overclocking stability at the exact same frequency as with the HIS model, which resulted in a similar score when tested with 3DMark 2011 (Performance Mode)."

Read more at Mad Shrimps
---
Compro TN600W

Posted on 11-27-2013 - 0 Comments
Vortez have reviewed the Compro TN600W network camera which allows users to monitor footage from their smartphone or tablet:



Quote:

"Having been impressed by Compro's entry level TN50W we were excited at the prospect of examining the performance of their new TN600W and we have to say it's rather a mixed bag.

The unit is extremely easy to setup thanks to the intuitive software which guides you right through the installation process and even configures settings to allow connectivity from external locations without the user having to do a thing.

What we especially like is the software UI and that TN600W is easy to manage and use via smartphone or tablet. The software leaves the end user with a plethora of options to tweak and the interface is designed in such a way to be user-friendly and pleasant to use."

Read their full review here.
---
Call of Duty: Ghosts (PC) Game Review

Posted on 11-26-2013 - 0 Comments
Hardware Heaven have reviewed Call of Duty: Ghosts for the PC. This game has received a lot of bad feedback from gamers, so let's see what they thought of it:



Quote:

"The Ghosts are of course the elitist clandestine team out there, shrouded in mystery, you start out as an ordinary joe soldier with no ties, but sure enough your paths soon cross as you find out you are closer to the Ghosts than you could of imagined. The main events take place after a catastrophic event wipes out the infrastructure of the western world and America is left a shadow of its former self fighting to defend what remains in the decimated land. As we've seen in previous instalments you control various characters and play through events both past and present, with the primary story taking place ten years after the main event in a post-apocalyptic America."

Read their full review here.
---